Blogging and writing are two different things. You might be an ok writer but it doesn't make you a good blogger.
You see, when you are writing a blog post, you are not just writing for your audience. Although that should be the case – but it doesn't work like that. Here's why:
You need to write your content in such a manner that Google starts showing your content to people. In a more technical sense, your content should satisfy search engine's ranking factors. So if Google thinks your content is worth showing, they will put your content in the top rankings. 
But still, you don't want to sound too technical or your purpose should not only be to write for the algorithms. In fact, you need to maintain a balance.
A balance between content which is:
SEO (search engine optimization) friendly and readers' friendly.
If you manage that, you'll get traffic and then you'd be able to monetize your blog.
So you might be a content writer already or you run your own blog, this article will help you RANK. Which everybody wants right?
Here are 5 tips that guarantee you to rank on SERPs (search engine results pages). 
1. Be clever about your title. 
Call it a title, H1 tag, title tag, or heading, it's the same thing and it has utmost importance. Title tag improves visibility, clickability, and overall rankings. Remember that the user spots the title tag first so it's crucial for UX also. Google will judge your content based on trying to show the best matches possible to their users.
Therefore never write a clickbait title tag, be honest and match your title with your content. Include search intent, your keyword, and attention-grabbing words to make it powerful. Use numbers whenever possible, ods numbers work better.
There are some good free tools available to search topic/title/keywords: LSIGraphs, AnswerThePublic, SEMrush, NeilPatel's UberSuggest, and KeywordTool.io. Use communities like Quora to get more ideas.
Keep your title tag under 50-55 characters so that they get displaced fully on the search page. If you still don't know how to create a title tag, search for topics you want to write about and get ideas/inspirations to create your own.
Pro tip: It's a good idea to create somewhat similar title tags which are already ranking. Because you'll also be able to satisfy search intent and there's already much volume for that topic or title tag.
2. Get your research done
Pretty obvious right? But how do you do the research? Let's talk about the easy ways which work in the real world.
Whatever you're going to write about, search it and read the top results. Read the articles carefully and you'll have a good idea – what to mention, what is missing and how you can make it better.
If you think your targeted keyword is too saturated. Meaning a lot of people and big companies have already written on it and it's hard to outrank, choose a long-tail keyword. Long-tail keywords are amazing because you get to write more specific content, it has a higher conversion rate and the user is more satisfied.
Pro Tip: If you find content that is old but has a lot of search volume, you've got a perfect opportunity. Create fresh and more valuable content and you will easily rank (you'll need to follow the other tips of course). Because Google loves to crawl new content.
3. Primary and LSI keywords
Although Google doesn't use LSI (Latent Semantic Indexing) keywords as a ranking factor. But LSIs make your content more relatable and understandable for readers and search engines. They support your primary keywords and help to establish more context.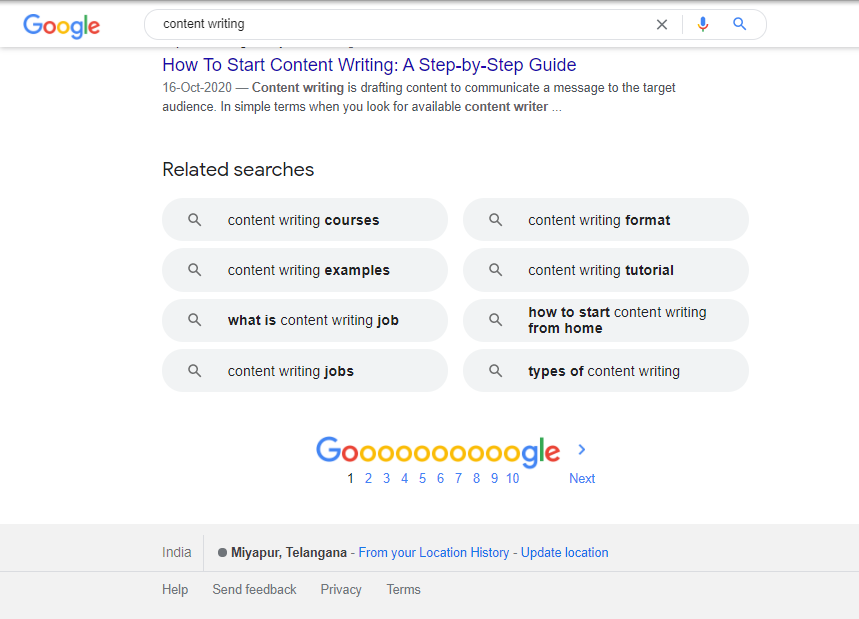 LSIs are not synonyms but related phrases and terms. For instance, LSI for content writing would be content writing jobs, content writing courses, or content writing vs copywriting. It's simply something related to your original topic a user might search. That's why when you scroll through the bottom of the page, you see "related searches". These are LSI perhaps. You can also get LSI using the Tools we mentioned already – LSIGraph and KeyWordTool.
Now, coming to the primary keyword. Chances are if you're reading this article, you already have a pretty good idea about it. You can use all sorts of free and paid tools to find out your keyword – we've mentioned the tools above.
But if you're not sure about what to do with your keywords. Here's an easy answer. Put your main/targeted/primary keyword in all the tags. This includes meta tag, title tag, and alt tag. Not to mention that your content in general will revolve around your targeted keyword. For content, there are no rules as to how many times your keyword should appear in your content.
The good practice is to use it every time it falls naturally. So if you are writing an article about "Freelancing for Beginners – Guide and Resources", make sure that you include your keyword "freelancing for beginners" every time it arrives organically. Don't stress much about this part. Remember that you need to provide quality to your readers. So you don't want to put keywords forcefully (aka keyword stuffing) everywhere.
4. Make a blueprint
Now that you've collected all the information about what you're going to include, it's time to make a rough sketch.
For that, you'll need internal links, external links, pictures, subheadings, and other stuff in a single place. It doesn't have to be sophisticated. Put trustable and high-quality resources (external links) whenever you mention a claim. For internal links, you should include the relevant pages whenever you talk about something which you have already published.
You can do these things while writing or after you have completed the draft.
Your outline of the blog is helpful because you'll know how to lead the story and what to talk about it. It's generally easier and you will be able to draft a pretty neat draft in the first attempt.
Crux: You should have a pretty good idea about your introduction, body, and conclusion part. And the material and sources to include between each.
5. Write, edit and proofread
It can't get any better. You've everything figured out. Now you need to awaken the writer within.
Open a Doc or MSWord if you're old school and start writing. It should be easy now since you've all the materials you'll need.
A good practice is to not worry too much about your writing. Because it's your first draft and the only focus should be to complete your first draft.
When you're done writing (congrats!), you might want to include more links whenever necessary. Use keyword-rich anchor texts for that.
You can now start editing and then proofreading. It's preferred to proofread after a while if you've got time.
While you're going through these steps, here are some recommendations about content writing:
Keep your language simple and easy.
Write short sentences and avoid complex ones. 
Remember throughout – "who are my ideal readers?"
Everything should flow in a stream. Make your content scannable. 
These articles will help you with content writing:
Conclusion
Alright, here's the truth. You don't need Shakespeare to be able to write well. In fact, when you'll content from websites like Ahrefs, NeilPatel, Backlinko, Moz, etc, you'll find a pattern. Their writing style is the same – which is – using simple words, writing short sentences, and making it extremely easy to read. Therefore, follow the same rules.
As long as the SEO is concerned, this is most of it right here. Refer to the website we have mentioned if you want to go deeper. But if you're new to content and SEO, this article is more than enough.
Before you go, we would like you to remember at least this: search intent is crucial, writing should be easy, following these guides step-by-step will help you to rank.