As a student, you are never free, you've got so much to do. Classes, assignments, extracurricular activities, a side project, or managing projects as a freelancer are all possibilities.
Therefore, it's crucial to manage your time and stay organized. Fortunately, there are some best free productivity apps for students or new freelancers. Who is trying to juggle multiple tasks.
With that, here are the best free productivity apps for students. These will help you stay productive and stress-free.
Side Note. These apps will fall under any of the categories mentioned below. You can also click the links to jump directly on any heading.
1. Best Apps for To-Do List
A To-do list not only helps you stay organized but also clears your head. As you're literally taking all the thoughts out from your brain and putting them in a place where you can track them and hopefully accomplish them. That way, you're free from all the burdens of remembering something and you'll be more productive.
In the case of the to-do list for best free productivity apps for students. Here are our top picks.
This is a simple and easy-to-use app for storing your random ideas and thoughts. You can use the feature called 'smart list' to write out details and due dates in one line using natural language. You can also get notified of the tasks via email and texts.
Google keep will make sense for many reasons. It's easy to use, it's native in the android words, and you'll love it if you still use pen and paper or switching from it. You can connect all of your devices using Google Keep, leave voice reminders. The app is highly user-friendly.
Honorable mentions:
2. Best Apps for Taking Notes
The reason we kept the to-do list simple is because of our note-taking apps list. The idea is that you can use a to-do list for tracking your short-term goals and daily habits, so you want it to be simple and accessible. However, with note-taking apps, making projects, taking school/college notes, or tracking long-term projects gets easier. It's just a simple way to process overwhelming data.
For note-taking, here's our list of best free productivity apps for students.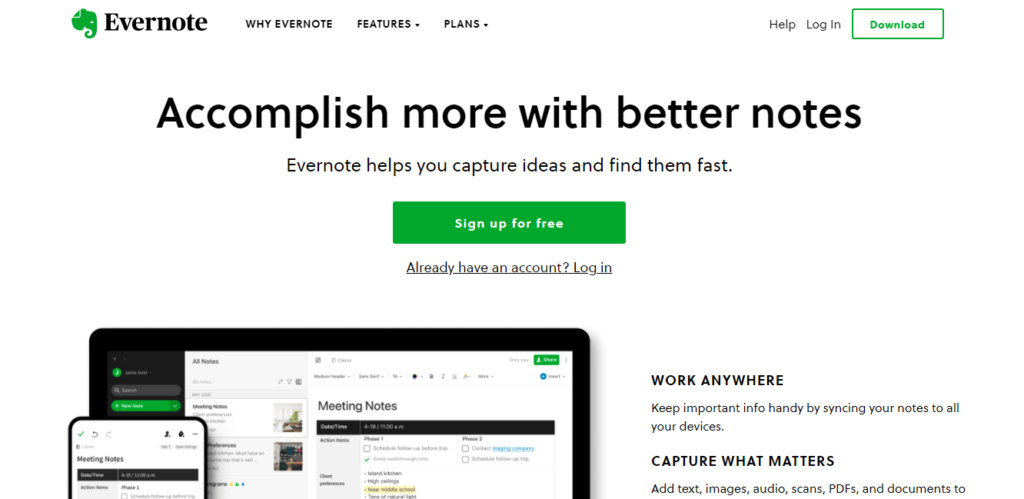 Evernote has been around for a long time and is here to stay for all the right reasons. Being a note-taking app, you can use digital notebooks and even group them into stacks for better management. It's easier to sync between the devices and you can include images, PDFs, or audio recordings while creating your notes.
Evernote offers you everything you need but if you don't like it for any reason, you can switch to OneNote. You might prefer OneNote if you use Office365 products.
Honorable mentions:
3. Best Apps for Project Management
The note-taking apps we mentioned are sufficient if you are a student. But if you run a small business or manage projects as a freelancer where you've to collaborate with different people. Then you'll need something which lets you share the common goals and helps you communicate.
In that case, project management apps are a must. Here is our list of best free productivity apps for students.
Notion is without a doubt our favorite collaboration app. It's so good that you can't believe it's free. The notion is so powerful that you can use it for any purpose and in any fashion you like. You can use different templates, add lists, add video, add sounds, code snippets, etc. You can create notebooks and add them into folders for organizing them further.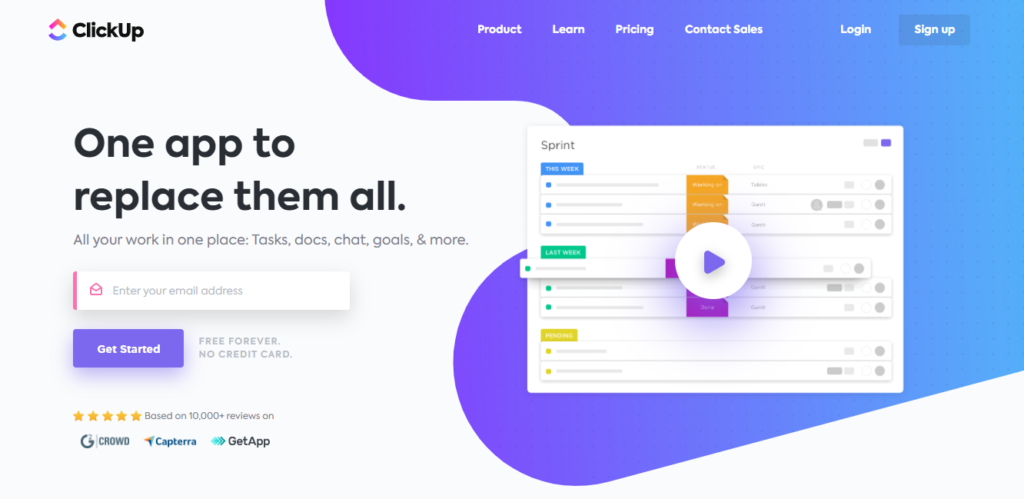 It's probably the best free productivity app for students and teams looking for collaboration. While Notion is great for small teams and individual use, this app can handle large teams and projects. You can create subtasks, task dependencies, and assign multiple people to single tasks. It's a popular tool used by Airbnb, Google, and Webflow.
Honorable mentions:
4. Best apps for not getting distracted
It's one thing to have plans, but it's quite another to get started on them. We are constantly surrounded by distractions that can rob us of our time. Therefore, in our list of best free productivity apps for students. We are mentioning some apps that will help you to block particular websites and other sources so that you can become more efficient.
Forest is really simple and has a cool concept. Set a timer and let your virtual tree grow. If you fail, your tree will die! It also blocks certain websites like social media but you can always select them. Forest is your best choice if you want to use it on your smartphone. But if you wish to use it on a PC, you can download a free chrome extension.
If you want something stronger, go with freedom. It gives you more choice when it comes to blocking websites or other distractions. One of the best features is that you can schedule your blocking time. So, the next time you start working, nothing will stand in the way of achieving your goals.
Honorable mentions:
5. Best Apps for Tracking Habits
Over time, it gets really hard to stay productive. You'll need a system so that you don't have to push your willpower every time you've to work or study. This system is called habits. When you build habits, it's easy to take action. With these best free productivity apps for students, you'll be able to create new habits and track them also.
Here's our list for – tracking habits.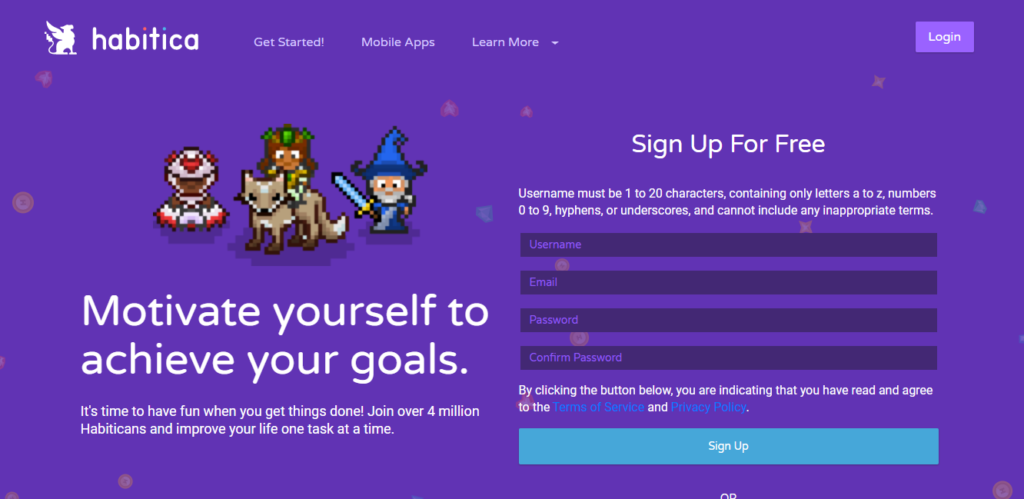 Habitica is based on the role-playing game concept. So your character also grows with you if you continue to develop your habits. It's like virtual you—where you get to unlock certain rewards if you maintain habits. If that's not motivating enough, you can join the battle with other users also which makes you more accountable. Because if you fail to achieve your goals, your whole team suffers.
If you like the concept of accountability, then you'll love this app. It offers you the support of professional coaches and the community. The supportive community will help you figure out—how to build a new habit or work on it. The community is formed with similar users who encourage each other.
Honorable mentions:
Conclusion
We tried to make the list of best free productivity apps for students—as relatable as possible. If you feel like you needed more tools or something was missing. You can check our list for the best chrome extensions for productivity.
At the same time, we want you to remind that all these productivity apps are not going to work if you don't take the actions yourself. Therefore, build good habits, take make, and start working right now!