What if there was a list where you could find every productivity resource?
A go-to list for all things productivity. From productivity blogs to YouTube channels, podcasts to books, productivity tools to Twitter accounts, and more.
If you want to be more productive but don't know where to begin, this is your holy grail. Each item has been carefully selected to help you up your productivity game.
And it's not just about being productive. These are some of the best resources present on the Internet. This list will help you stay focused so that you can become the person you've always wanted to be.
With that, here's the growing list of the best productivity resources.
1. Best Productivity Blogs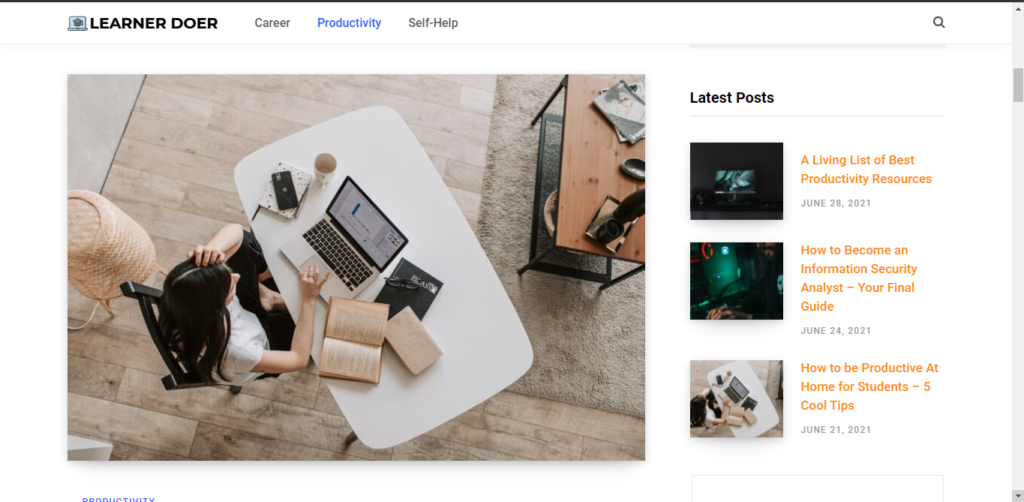 LearnerDoer – The blog covers three major categories. Out of which, Productivity is one. If you're a student or a freelancer, you're going to find this blog extremely useful.
Lifehacker – The popular blog covers many topics around productivity: news, tips, money, relationships, work, and more.
Taking Note by Evernote – It's no surprise that one of the best note-taking tools has a fascinating medium blog around the same topics. You will find content about creativity, self-improvement but most importantly—how to take better notes.
Dumb Little Man – The online magazine is one of the oldest in self-improvement categories. With categories including happiness, success, money, lifehacks, how-to, etc. You won't find an excuse to not work on yourself.
Bullet Journal Blog – The blog has a journal-like feel – making the reading experience special and personal. You'll find topics about the bullet journal, inspiration, mindfulness, and time management.
Zen Habits – If you want to develop habits that can potentially change your life, this blog will teach you that. The blog is run by Leo Babauta and was voted one of the best blogs by Time Magazine.
James Clear – The blog is written by the same person who authored Atomic Habits, so you know you can trust these articles. James delves into the behavioral psychology of habit and productivity using real-life examples, which is reflected in the articles as well.
Asian Efficiency – The blog is divided into sections such as getting things done, time management tips, how to focus, and productivity apps. The blog is centered on tips and tricks that promise to help you get your work done.
Tim Ferriss's Blog – The author of the best-selling book, The 4-Hour Workweek has a fantastic lifestyle and productivity blog. The articles are essentially personal experiences about life advice, business, philosophy, and everything else Tim is known for.
My Morning Routine – As the name suggests, they publish different morning routines every Wednesday. If you're having trouble with morning routines, these articles will help you develop one that works for you as an individual.
99u – The website's user interface and content are both quite appealing. You'll find hundreds of tips, interviews, and articles about productivity, organization, and leadership on this blog.
Grammarly Blog – When it comes to writing, grammar, and becoming a better writer, the blog has the best content on the internet. Everyone should develop good writing skills, which is why you should definitely check this blog.
Timeular – Improve your work-life with this blog. It has some of the most relevant and new content when it comes to saving time and being more productive.
2. Best Productivity YouTube Channels
Ali Abdaal – Ali is a Cambridge University medicine graduate who creates high-quality videos about careers, making money, and productivity. Ali, as a successful content creator and entrepreneur. He offers practical advice that will help you become the best version of yourself.
Thomas Frank – One of the best YT channels when it comes to studying, being productive, and scoring well. He reviews different productivity tools, offers note-taking tips, and suggests books. Overall, a YT channel where you can learn to become the best student.
Matt D'Avella – Matt is a filmmaker and a practitioner of minimalism. He talks about building habits, being productive, and of course minimalism. Some of the best videos are about 30-day challenges in which he puts a lifestyle to the test. His filmmaking abilities add the cherry on the top.
Simpletivity – The channel is hosted by Scott Friesen where he talks about the hacks on the internet. He provides tips and tricks for using technology apps that will save you a lot of time. Basically, learn how to use the tools available on the Internet to improve your productivity and work-life.
Dotto Tech – Apart from the YouTube channel, Dotto is also the host and producer of Dotto Tech — Canada-based TV shows. His videos will teach you to stay productive using your smartphone and computer. Dotto will teach you the best ways to use everyday productivity tools like Zoom, Asana, chrome extensions, and so on.
Teacher's Tech – The YT channel is founded by Jaime Keet who has 15 years of experience as a teacher. Jaime tries to infuse technology with teaching which makes his videos more appealing. He has posted some of the best beginner tutorial videos on Microsoft Excel, video editing software, and other topics.
Muchelleb – Michelle's content focuses on making life more peaceful, productive, and meaningful. You can learn to develop better habits, routines, and a more fulfilling life that will make you happy. If you want productivity tips with a philosophical twist, this is the channel for you.
Check out these also:
3. Best Productivity Podcasts
The Tim Ferris Show – The bestselling author also hosts a popular podcast (600M+ downloads). Tim Ferris invites the best people from different industries to understand their success. He discusses technology, business, eastern philosophy, meditation, and a variety of other topics.
The 5 AM Miracle – The podcast is hosted by Jeff Sanders for high achievers. It's a weekly podcast that helps you to leave your bed with enthusiasm and positive energy. The main elements in the podcasts are waking early, productivity, building habits, and personal development.
The Accidental Creative – The podcast is hosted by Todd Henry, author of Die Empty, Louder Than Words, and, The Accidental Creative. Each weekly episode provides advice and interviews top businesspeople and thinkers. So, whether you are a business person or a creative soul, you will receive a lot of value.
Productivityist – The podcast is one of the top-rated when it comes to productivity. Hosted by Mike Vardy, the podcast, helps listener plan their day through actionable advice and tips.
Masters of Scale – Masters of Scale is hosted by Reid Hoffman, co-founder of LinkedIn. Reid Hoffman invites top leaders from various industries to try to figure out how the company made so much money. If you're trying to stay focused on your business, the podcast is extremely beneficial.
Back to Work – The podcast is an award-winning talk show hosted by Merlin Mann and Dan Benjamin that covers work-related topics. The theme is about developing better work habits, staying productive, and improving communication.
Check out these also:
4. Productivity experts on Twitter
Tim Ferris – We've already mentioned his podcast and blog; what's keeping you from following him on Twitter? Tim is the author of 5 New York Times bestselling books. And he keeps his followers updated on what he is up to on Twitter.
Elon Musk – Who hasn't heard of Elon Musk? He is a business owner, inventor, investor, engineer, and dreamer. He owns some of the world's largest corporations, and he is also one of the world's wealthiest people. Therefore, one thing is certain – he gets a lot done.
Tony Robbins – Tony Robbins is a life and business coach, public speaker, self-help guru, and New York Times best-selling author. The Harvard Business Post also named him one of the "Top 200 Business Gurus."
Seth Godin – Seth Godin is a highly regarded marketing and leadership thought leader. Seth has a popular blog called Seths.Blog, which he retweets on his account. Seth Godin is a highly educated entrepreneur who has authored several highly successful books, including Linchpin, This Is Marketing, The Dip, and others.
Maria Popova – Maria Popova is an acclaimed writer based in New York and the creator of the successful website brainpickings.org as well as the author of Figuring. Maria was also named by Fast Company magazine as the top 100 most creative people in business.
Gary Vaynerchuk – Gary is probably the most famous content creator out there. He is the owner of Vaynerchuck Media, a sports fan, and a wine seller. Gary is a productivity powerhouse who is well-known for his content creation.
Laura Stack – Laura is a productivity expert who strives to change people's lives, mindsets, and ways of thinking. She is a Hall of Fame productivity keynote speaker & author is the president and CEO of The Productivity Pro Inc.
People worth mentioning:
5. More Productivity Resource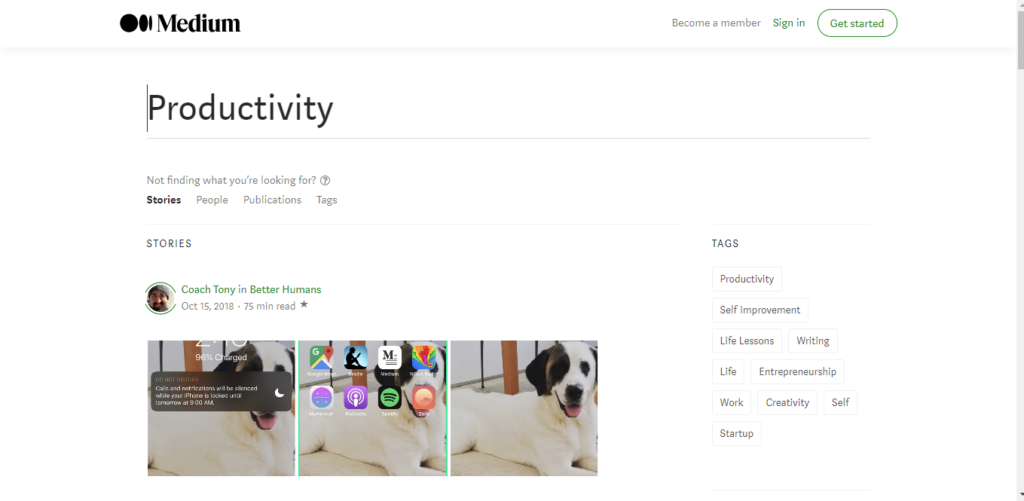 Medium productivity category – Medium publications has some of the best writers in every industry. The productivity niche is no different. You'll find categories like self-help, productivity, time management, creativity, and other similar topics.
Best Productivity Apps for Students and Freelancers – The guide contains some of the best free apps in different categories. This includes note-taking apps, project management apps, habit tracking apps, and so on.
Best Chrome Extensions for Productivity – Chrome extensions make the work flawless – this guide has some of the best extensions according to different categories. You can save time, take notes, block distractions and do much more with these extensions.
Conclusion
That's not it. We are trying to create a living, ever-growing list of free productivity resources that we'll update regularly. Therefore save the list because we'll constantly refresh the content.
With that, we hope you found it worth reading. If you think it's useful — bookmark it, highlight it, and share it with people you care about.