Did you know that more than two dozen Internet browsers are built on chromium? This means that even if you don't use a chrome browser, all these chrome extensions are still going to work.
That said, chrome extensions greatly enhance the functionality of your existing browser. Especially if you work from home or are a freelancer.
The best thing about these extensions is that they act as a mini-productivity boost. You don't have to do anything manually because they will find a shortcut for you. Making your WFH even smoother.
Therefore, here are the 11 best chrome extensions to make your work-from-home more productive.
1. Google Keep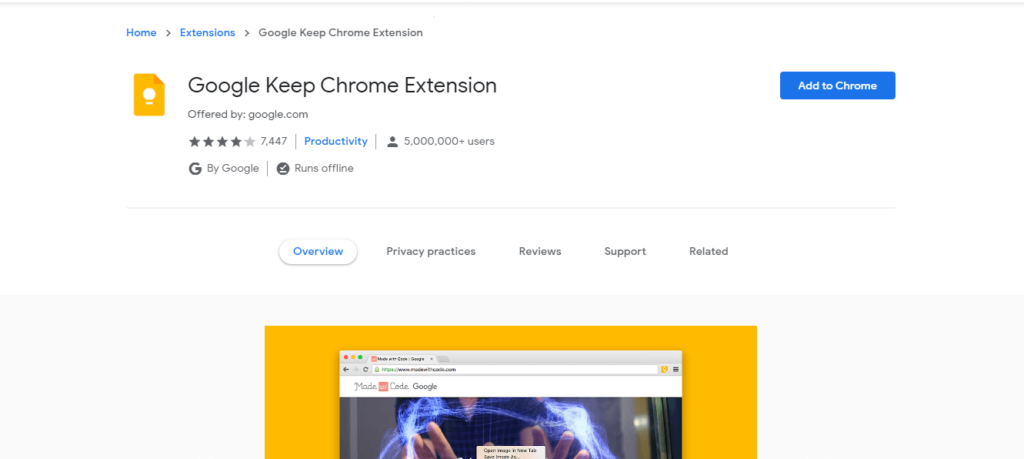 The reason why Google Keep is on the best chrome extensions for work list is because of its simplicity. Many times, we just want a simple to-do tool that can store all of our thoughts without complicating things.
Other features that drew us in were its ability to sync across all of your devices and, of course, the fact that it is a Google product.
However, don't underestimate it because it's simple. You can add images, list, check-list, and separate your notes using different colors. You can also take voice notes and Google keep chrome extension will transcribe it for you.
Perfect for people looking to dump every thought and idea they have while working. You can also access it via a web tool or download the mobile apps.
2. Kanbie
If you're a fan of Kanban boards, you should try this chrome extension for productivity.
A plain to-do list can be boring sometimes or it's not simple to track them with ease. Kanbie extension will help you keep the track of all your task so that you can see the progress.
The kanban board is attractive, easy to use, customizable, and is available from any tab you are at. It also syncs your data over different devices.
You can also separate your tasks with different color labels — making it easy to recognize different goals.
3. Session Buddy
Freelancers are going to relate to this. Let's say you've been working on a project with tons of tabs opened. Now, out of blue, something urgent comes up and you need to work on this new project.
You've got two options. Either close all the tabs because it will be a bigger mess with more tabs. Or you sacrifice your real state and open more tabs. Either way, it's not going to be very efficient.
Try session buddy. The chrome extension will save your browsing sessions regardless of how many tabs you have opened. And when you're done with the new project, you can come back and restore all the tabs and everything would be on the same place.
It also has an option to search your tabs and collection. Pretty useful for work-from-home productivity.
4. Dark Reader
Being self-employed and working from home doesn't always mean that you'd be able to finish the work between 9-5. Sometimes, you might need to work late hours also.
Perhaps you'd like to use the Internet late at night but can't stand the bright lights. In that case, you can use the dark reader chrome extension to make your life a little less bright, but a lot easier.
It provides 100% dark mode on your browser and has many crucial settings also. You can adjust the colors based on your likes. There are others as well, you can adjust brightness, contrast, sepia, and grayscale.
Once you begin using it, you might want to stay it turned on because blue lights cause eye strain and other problems. That said, it's one of the best work-from-home Google Chrome extensions that we suggest.
5. Adblock Plus
When it comes to the browsing experience, no one wants to click on pop-up ads by accident and end up on some strange website. This is something that the extension will help you avoid.
Of course, it does a lot more than that. The Chrome extension can be used to block video ads, as well as harmful malvertising that can be hidden in ads and trackers. As a result, your browsing experience will be cleaner and more secure.
Adblock Plus has been installed by over 500 million users and is quite popular. If you want to receive ads from some of your popular websites, you can go ahead and put them on the whitelist.
Overall, a must-have Google Chrome extension to Improve work-from-home productivity while staying on the safe side.
6. Free VPN for Chrome
A VPN is a must when it comes to safe and secure browsing. There are a plethora of free VPN chrome extensions available, but this one will not disappoint you.
The Free VPN for Chrome extension offers you unlimited traffic and bandwidth. It has more than 2500 servers all over the world, and it is also fast enough.
The VPN extension will help you hide your location and you can use it to stream Netflix, games, and other media. It also supports incognito mode which is a plus.
Everybody should have at least one VPN running, you can try this Chrome extension to make your work-from-home more secure.
7. Momentum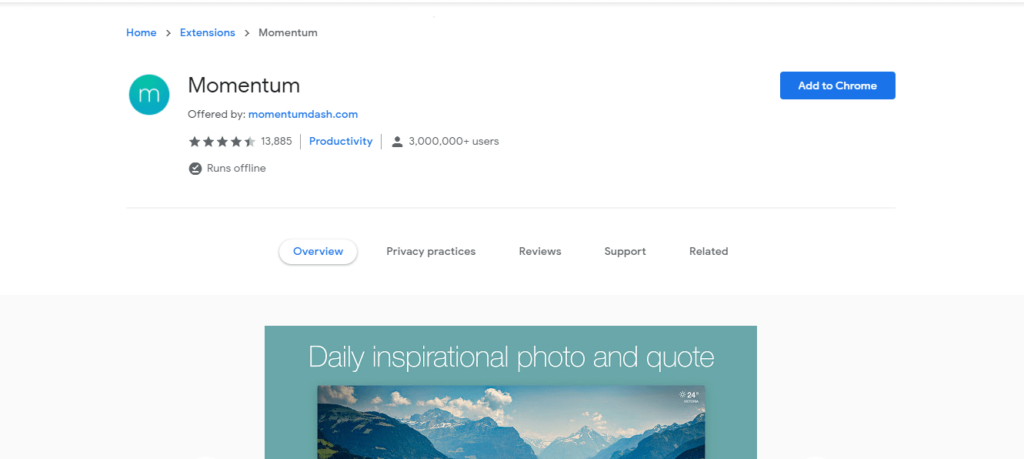 How many times do we open a new tab but nothing special happens. Well, with Momentum chrome extension you can get a moment of introspection and get inspired to be productive.
The truth is, we can't take a lot of breaks during our work sessions, but we can and should take few moments to calm ourselves and see the progress we have made. You don't have to give extra time for that — you only need to open a 'new tab' using Momentum.
When you replace your regular new tab with Momentum, you get many features. You get soothing wallpapers, inspiration quotes, a daily focus tracker, and the best one — your to-do list. All on the new tab you'd open.
This is one of the best work-from-home Google Chrome extensions that everybody should try at least once.
8. Picture-in-picture
Although the chrome extension is not new, many people still don't know about it. And we wanted to mention it here since it's extremely useful.
Picture-in-picture (PiP) is from Google and offers one core functionality. You can watch videos on a floating screen that is customizable.
let's say you are watching a tutorial for making some changes to your computer, you can use this extension to watch the video and perform the instruction at the same time. You don't have to go forward and backward — super useful especially for YouTube videos.
You can also use the Alt + P as a shortcut to activate the service. It's built for a very particular task and so does the job very well. It's one of our favorites when it comes to work-from-home chrome extensions.
9. Awesome Screenshot & Screen Recorder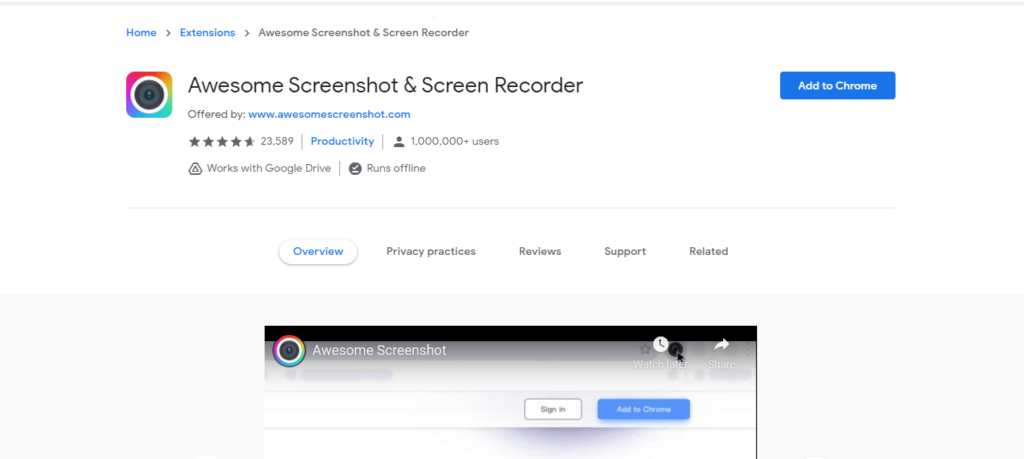 The chrome extension always comes in handy when you want to record your online sessions. Whether they are from your online workshop, zoom meetings, or something else.
Once you are done with the recording, the images and recordings will be saved and you can either download them on your PC or share the videos with a link.
Being a chrome extension, it doesn't let your PC lag and works flawlessly every single time.
A must-have during work-from-home chrome extensions. And extremely valuable for people who stream content online.
10. Clockfiy Time Tracker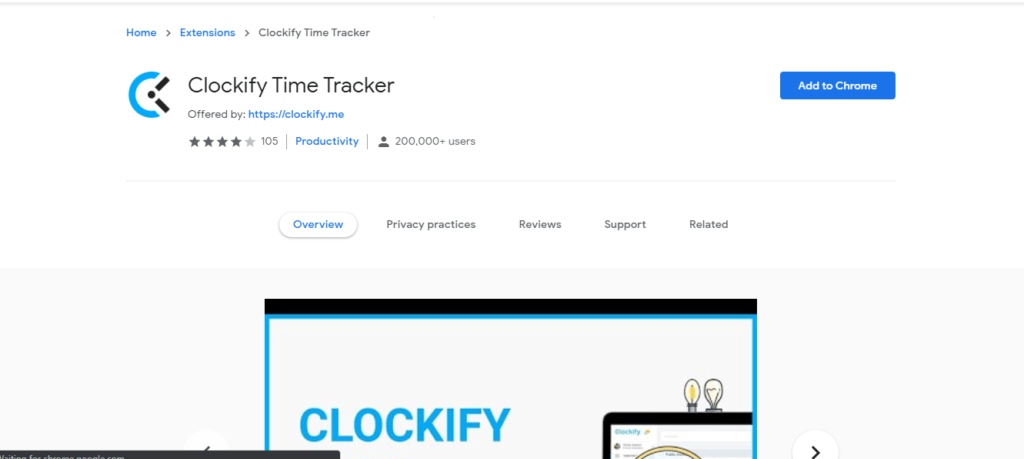 if you like to track your time while working on a particular project, this is your tool. The chrome extension doesn't seem like an extension because it offers tons of features as an application would.
You can set a reminder for a specific project, and the time will start or stop automatically depending on your preferences. You can also integrate it with 50+ web apps to turn it into a productivity hub.
Use can also use the Pomodoro timer for the sessions. Overall, a pretty powerful chrome extension.
So, if you want to track your time without having to open multiple applications or web apps, this is the way to go.
11. Grammarly
The last one on our list is the very popular – Grammarly Chrome extension. Many of us have heard of Grammarly but have never given it a try. You should reconsider.
You might be a professional content writer or a professional – working from home, whatever the case is, you can't go wrong with this tool. Everyone has those moments when we check an email ten times but when we send it and re-read it — there are many grammatical and spelling errors.
We as a human has the tendency to make silly mistakes even if we are good at writing. Grammarly will save you from those embarrassing moments.
The Chrome extension will help you get the following right: tone, Grammar, spellings, style, and so on. You also get the option to chose a synonym for your words.
Every professional working from home should install the Grammarly Chrome extension. Because prevention is better than cure. And, in most cases, there's no going back once you've sent an email with grammatical errors.
Conclusion
We wanted to compile a list of the best work-from-home Google Chrome extensions. These Chrome extensions will help you accomplish more in less time — the very definition of productivity.
If you want to see the complete list, we have mentioned 21 chrome extensions for productivity in another aticle. Until then, keep working hard and be productive!